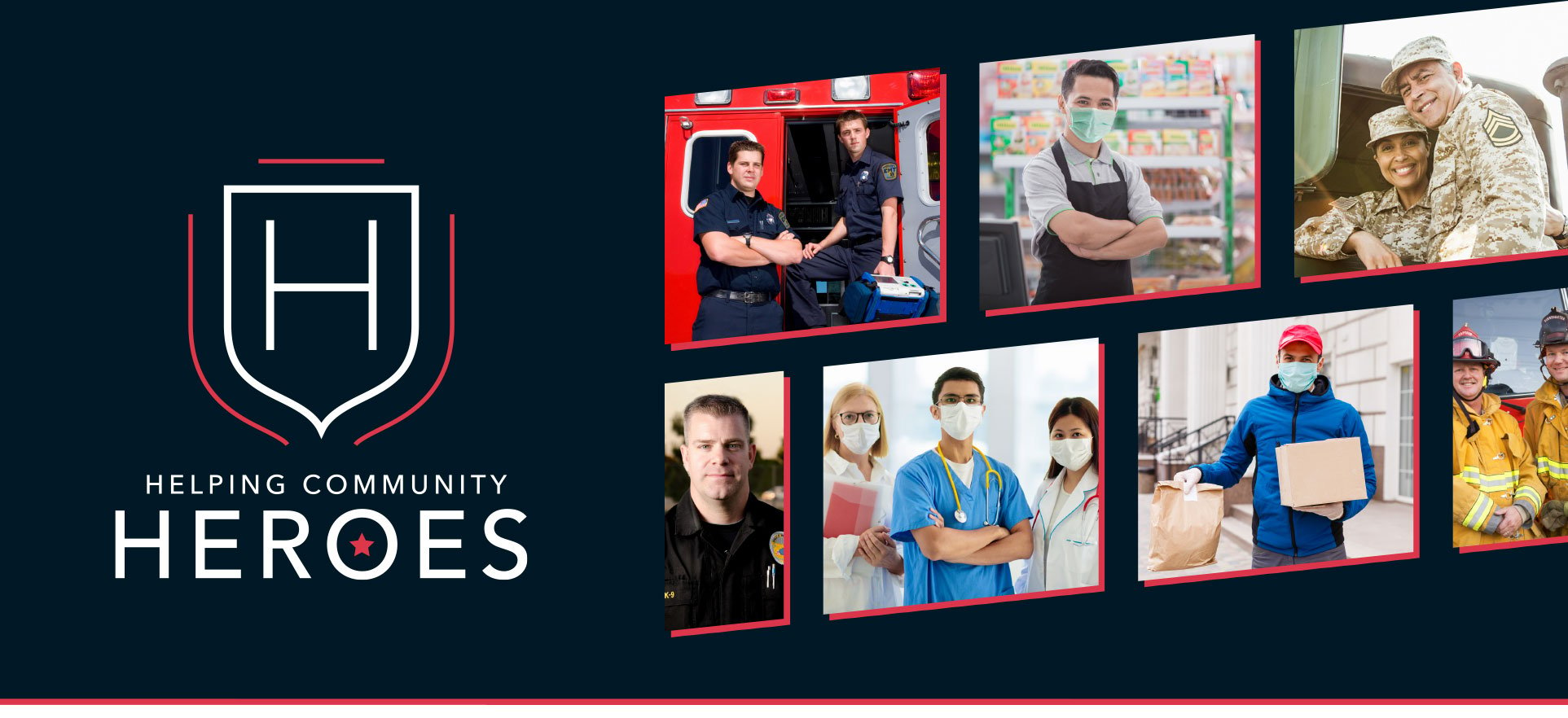 Helping you make housing more affordable
with a ¼% interest rate reduction, free.

To say "thank you" to our essential heroes we will buy down your interest rate by ¼% on your next purchase, and if you have a home to sell, we will offer you substantial SAVINGS as well.

We appreciate that amid COVID-19, First Responders, medical providers, and other essential workers have put everything on the line. To serve you in return, our First Team Family of Companies is making it possible for qualified heroes to take advantage of up to tens of thousands of dollars in SAVINGS when we pay for you to buy down, and reduce your interest rate by ¼% for your mortgage financing for up to 30 years.

Here are the
Possible SAVINGS Examples:*
30-Year Fully Amortized Fixed-Rate Mortgage
with

¼%

Interest Rate Buy Down:

---
$34,278

SAVINGS

on $700,000 Loan Amount
$29,381

SAVINGS

on $600,000 Loan Amount
$24,484

SAVINGS

on $500,000 Loan Amount
$19,587

SAVINGS

on $400,000 Loan Amount

Since 2017, First Team has offered a similar savings program to military households and has been recognized as the #1 contributor to this program nationwide by Leading Real Estate Companies of the World®, the largest network of independent brokerage firms in the U.S.
Take advantage of this program to have us buy down your interest OR apply your substantial SAVINGS directly toward closing costs.
Save TWICE when you buy and sell a home through this limited-time offer.
We thank you for allowing us to stay safe at home.
Now trust us with yours.
For more information on taking advantage of this limited-time offer, contact me.

First Team® Real Estate
Founded in 1976 in Orange County, First Team has been trusted by 250,000 Southern California households for real estate sales and purchases. As a local family-owned business, we are big enough to have the resources and small enough to care.
Homeowners First Mortgage
Homeowners First Mortgage offers hundreds of loan choices to our customers, with our strength rooted in the knowledge and experience of our loan officers. Many of our loan officers have been in the industry for decades and have successfully handled all types of home buying situations. Our team is experienced, professional, and readily available to our customers to answer any questions, address issues, and help them navigate through the mortgage process smoothly.

*Offer provided by First Team Real Estate and may be withdrawn at any time, with or without notice. Offer subject to cooperation of independent brokerage and agent members of the MLS on co-op transactions and consumer's use of First Team Real Estate's affiliate, Homeowners First Mortgage, LLC for financing. Maximum loan amounts apply. Discounts and saving promoted here are estimates only as of 05/6/2021, are based on a market interest rate of 3.25%, and do not bind First Team Real Estate or any of our affiliates. By way of example, a home with a purchase price of $1,000,000 with $700,000 financed at 3.25% / 3.277% APR and borrower-paid closing costs of $2,400 would result in $34,278 in interest savings over a 30-year term. First Team Family of Companies consists of essential services of escrow settlement, title insurance, real estate brokerage, and mortgage finance services. You are advised to seek your own counsel from your accountant or legal advisor. 108 Pacifica, Irvine, CA 92618. Lic# 01008773. © First Team® Real Estate. All rights reserved. This is not intended to solicit a listed property. If your property is currently listed for sale with a broker, please disregard. Financing provided by Homeowners First Mortgage, LLC, 108 Pacifica, Suite 250, Irvine, CA 92618. Corp NMLS#: 1932549 (www.nmlsconsumeraccess.org). Loans made or arranged pursuant to a California Finance Lenders Law license. This communication does not constitute a commitment to lend or the guarantee of a specified interest rate. All loan programs and availability of cash proceeds are subject to credit, underwriting and property approval. Programs, rates, terms and conditions are subject to change without notice. Other restrictions apply.
Testimonials
" It was a pleasure working with Mark Reyes. He is the most conscientious person I have experienced in real estate. He always responds right away to any questions that I had. "
- Buyer
" Bob is the greatest manager I can imagine. His knowledge of real estate and anything related to it is amazing. Each and every week, at our office meeting, I learn something. He is also a phenomenal inspirational speaker. He keeps me motivated, and helps how to achieve my goals. He stood behind me when I needed his help and figured out how to solve the problem. I feel very lucky that he was my manager and coach from the very beginning of my career, and I know I can count on him anytime! "
- Andrea Karpati
" Daniel was very intuitive in understanding my needs and researching within my budget to meet my request. He was patient, encouraging when I wanted to give up and kept me focused! Very blessed to have had him as my representative. "
- Rose Proctor
" He, makes me feel like family, he cares about me, always answer my calls, very professional. I really appreciate all his help. Keep up the great work. "
- Abel
" 08/08/2020 - lulubelleboopSold a home in 2020 in Victorville, CA.Local knowledge: 5Process expertise: 5Responsiveness: 5Negotiation skills: 5Amanda is truly the BEST!! She walked me through the entire process which made it easy because I never sold a house before. She really exceeded my expectations of an agent and I always felt so comfortable and well taken care of. Amanda always answered my calls and texts and I never had to speak  to an assistant. She is amazing and so great at what she does. I highly recommend her if you are looking to buy or sell a home. "
- Tracy Carpenter
" Bob is a true team leader his experience and real estate knowledge is greater than the majority of managers. My personal experience with Bob is he is invested in his agents success. Most managers are just recruiting machines, once you work for the company they don't have time for you. Bob not only recruits new agents but has a vested interest in helping the agents he already has at his office be successful. Bob is a man with integrity and is always good for his word. Not many people are like Bob. If you are considering Bob as your manager, mentor, or personal coach you will not be disappointed and never regret your decision. "
- Amy Alvarez
" I'm a single mother of 4 me and my four children were without a home for two and a half months it was the most horrible unbelievable devastating nightmare Ernie came along and put the sun back in our life and change your life forever He blesses us with a beautiful Immaculate brand new home and gave us the will to be able to start our life all over again we are forever grateful for his assistance in time hard work and dedication. "
- TimMarie Tyson
" Daniel Blankenship came with a great marketing strategy. We interviewed at least a dozen real estate people and his was by far the best! Daniel Blankenship knows his business and was very attentive every interaction we had with him. He has a positive outlook and his great personality made it a pleasure to do business with him. I will definitely refer friends and family to him. "
- Emiterio & Sybil Dominguez
" Highly likely to recommend08/03/2020 - zuser20180112213939763Bought and sold a Single Family home in 2020 in Apple Valley, CA.Local knowledge: 5Process expertise: 5Responsiveness: 5Negotiation skills: 5Amazing communication and friendly active experience! Amanda went above and beyond helping me find a home I loved! Between communicating with me and staying on top of the listing agents and escrow agents she did an outstanding job keeping things in line and getting it done time efficient! "
- Jerry Verhague
" Working with Bob is a pleasant experience, He is very understanding and professional. He can lead and coach his team to achieve their goals. It is an honor to work with Bob Mac Culloch. "
- Amir Maloumi
" When I joined First Team in January 2015 it was because of the connection I made with Bob Mac Culloch. He exemplified what I was looking for in a Manager; someone who is caring, supportive, knowledgeable and a consummate professional! It has been a pleasure being a member of his Yorba Linda Team and I look forward to working with him for many years to come... "
- DEBORAH WILSON-YOSHIDA
" Amanda and her team are absolutely fabulous! She made selling my home so easy. She knew exactly how to market it and received many offers in just a couple of days. Amanda definitely always had my best interest in mind. She kept everything flowing when snags arose. Not only was she able to secure a selling price at a great deal over the asking price, she was also able to negotiate a few expenses along the way. Amanda was always extremely quick to answer any questions that I had. Amanda is definitely the person to call if you want an A+ relator who knows her industry well and gives the best service. "
- Kathryn Mustain
" 08/04/2020 - drgibso Sold a Single Family home in 2020 in Apple Valley, CA. Local knowledge: 5 Process expertise: 5 Responsiveness: 5 Negotiation skills: 5 Amanda helped us sell our home while buying another and she made the process extremely simple, quick, and stress free. She's very knowledgeable and was able to answer every question and concern we had and always very quickly. If I ever need to sell or buy again, I would definitely go with Amanda again! "
- Daniel Gibson
" Michelle S. Is the BEST !!! Michelle went above and beyond to make sure that my family and I found the right home for us . She has the best communication skills, expert negotiation techniques and paid attention to every detail . She made the process so much easier. We couldn't have chosen a better agent !! My family and I love her !! "
- Sasha Hazard
" I was having trouble getting my house sold and finally decided to go to another realtor. I went with Daniel and he was able to sell my house in less than 60 days!! I bought my next home with him as well and he was able to work out an amazing deal for me. He's very knowledgeable, very motivated, and all around amazing! He works with a great team as well. He and his team made the process of selling my home and buying a new one super smooth and easy. I will forever recommend him! Thank you Daniel! "
- Cynthia Esquivel
" I have had the pleasure of using the services of Amanda Vaage twice now, first time in buying my home in 2011 and most recently in selling. Amanda's professional attitude and warm demeanor along with her skills and knowledge of the real estate industry has made the process smooth and easy. Amanda is on top of all aspects of the process including her attention to details, her expert negotiation techniques, and was always available to answer any questions I had promptly and with utmost efficiency. I absolutely recommend Amanda to anyone looking for a highly skilled real estate agent. I will be going to Amanda again once I'm in the market. "
- Patrick Padilla
" Bob has been the manager of the First Team Real Estate office in Yorba Linda since I started real estate almost 3 years ago. In the time I have been there, I have had the privilege of receiving the guidance and instruction of Bob's extensive and intricate knowledge of real estate, communication, and negotiation skills. The professionalism with which he conducts the office meetings and one on one interactions has been the best example for me in my young real estate career. Bob also has an innate charisma that makes you feel comfortable coming to him for help with anything you might need. I could not ask for a better manager and I can confidently say, that many of my fellow agents would agree with me. Many of us joined not only First Team, but the Yorba Linda office specifically, to work under his impactful knowledge and direction. I hope to be blessed to work many more years with Bob. "
- Anna Martinez
" Working with Amanda and her teams is nothing short of amazing. Ten years ago she sold my family our first home. Fast forward ten years and she sold that same home to another amazing couple looking to buy their first home. The process was absolutely flawless. She has an amazing ability to match buyers with the right home and sellers with the right buyers. This has allowed my family to follow it's dreams and move on to a bigger and better home in another state. Thank you for all you do and your dedication to making sure every t is crossed and all the i's are dotted. "
- Vernon Trozzi Sr.
" Gerald Rohrabacher was very helpful in finding a buyer for my deceased mother's older house, and in walking through the various steps that happen during a sales negotiation, escrow, home review, closing and post-closing queries. Normally with brokers, it is about making a rapid sale. To my great surprise, Gerald showed that he cared about the actual people involved, not just making a quick sale. "
- Debra Popineau Trustee
" Amanda is absolutely wonderful to work with she is extremely professional she always seems to be 1 step ahead of the game! Everytime I had a question or needed information it seemed to appear even before I asked. She made selling our house a breeze the hardest part was picking one of the 40 plus offers she presented use with after only 1 weekend on the market! There is no other realtor I would work with. Thank you again Amanda for an amazing job! "
- Kristine Verhague
" From the first time we met Rob, he was energetic, outgoing, and we knew he wanted the best for us. We instantly knew we were in great hands. He handled everything that came our way with extreme knowledge, confidence, and respect. He got us more for our home than we ever would have expected. He is a top notch realtor, and we would recommend him to everyone. "
- Gloria L
" Thank you Amanda and team! The level of care and professionalism you displayed made the journey pleasurable. In this crazy market, I felt cared for and supported. Amanda and team kept our best interest in mind with each decision and plan that was made, Amanda took time to explain things or just listen as things came up, always reassuring the strong and dedicated support! "
- Stephanie Moore
" 08/05/2020 - mrandmrs gibsonBought and sold a Single Family home in 2020 in Apple Valley, CA.Local knowledge: 5Process expertise: 5Responsiveness: 5Negotiation skills: 5Our experience with Amanda was fantastic!! We chose Amanda (to help us sell our home and buy a new one) because she came highly recommended through friends and family who had used her previously. Amanda is extremely knowledgeable and always made herself available to answer questions and ease  concerns. We had a terrible experience purchasing our first home, and were very uneasy about repeating the process. Amanda was able to make the process run smoothly and kept us informed through every step.....if only she had been our realtor the first time around too. Amanda treats each client as if they are the only people she is helping. She never made me feel that I was being burdensome with all my questions and always answered quickly. I will never use another Realtor besides Amanda. "
- Daniel & April Gibson
" 06/27/2020 - Hector RamirezBought a home in 2020 in Leon, Victorville, CA 92394.Local knowledge: 5Process expertise: 5Responsiveness: 5Negotiation skills: 5I can't say enough great things about Amanda. She was great at listening to us, working with us and finding exactly what we wanted. She worked extra hard and walked us through everything. She did the hard work and made sure we never settled and never had a question go unanswered. I recommend you  use Amanda as your agent. "
- Hector & Carolyn Ramirez
" Teri Bragger is an amazing realtor and person who works tirelessly to get the job done. I highly recommend her to anyone looking for an honest, hardworking realtor who knows the High Desert well. "
- Crystal Johnson
" 08/21/2020 - amberdawnschwartz88Sold a home in 2020 in Hesperia, CA.Local knowledge:5Process expertise:5Responsiveness:5Negotiation skills:5Amanda is the best realtor ever! She went from being our realtor, to being our friend. From the very beginning I told her that she was going to have to hold our hands through this whole process because of how uneasy we were about it, and she really did! She was there for us every step of the way in  more ways than one. She explained everything in specific detail, took every call, came over to every appointment, and was just super supportive. She is professional, efficient, reliable, and extremely knowledgeable about real estate. She is simply amazing. We love her! "
- Dawn & Amber Schwartz
" "I love Rob. He was more than my agent. He was a real friend, who took the time to listen and answer any questions I had. He also offered so much information I was not aware of. I got a real education with Rob about purchasing and financing a home. I now not only have a great contact to refer all my friends and family to, but I also have a new friend in Rob. He's the greatest!" "
- Angie M
" Daniel is Awesome!!! I sold 1 home with him and he sold it less then 30 days at Full Price!!! He also got us a fantastic realtor in Oklahoma to work! Beginning to End everything was easy, I highly recommend Daniel Blankenship if your looking to get your home SOLD or looking to buy he is the man! Also I'm going to be selling my second home with him and he is doing amazing job pre-marketing the home and that's amazing to me! Thank you Daniel I'm forever grateful for you and your team!!! "
- Catherine Gandara
" Hi Bob, It was great meeting you and thank you for the information that you have share with us. Call Bob Mac Culloch if you want the very best real estate services. "
- Daniel McGhee
" Bruce Kallen represented me for two sales transactions of rental properties in Spring Valley Lake. I highly recommend Bruce for his knowledge, professionalism, customer support and guidance throughout two sales processes. "
- David S Newman Amy L Newman
" The selection of Robert was highly recommended by my mortgage company. Robert did not disappoint he actually exceeded expectations I had for a busy agent he made himself available for all of my concerns and notified me ahead of time of hour of unavailability. I would recommend Rob to all of my friends and family. Robert fostered a family like environment to the selection and purchase of my new home. He was also very knowledgeable In VA home loan process, and motivated to help me as a veteran and potential home buyer. Robert went above and beyond in his availability to provide explanations and address any of my concerns. This is my first property purchase and Robert made it pleasant and I would repeat business with him in an instant. Robert brought all of the knowledge of his expertise into the home purchase transaction which in hand actually educated and guided me to my overall choice and purchase "
- Mike H
" Rob stuck it out throughout my buying process with various loan types I qualified for that varied in the last 6 months. He persisted though we did not get an offer successfully picked. My financial situation was more favorable after the ups and downs of prior months and he was consistently helpful and unwavering in his efforts and ethics. Very happy he was my agent. "
- LeaAnn M
" 07/06/2020 - PaulaCopasBought a Single Family home in 2020 in Apple Valley, CA.Local knowledge: 5Process expertise: 5Responsiveness: 5Negotiation skills: 5Amanda was an amazing Agent for my uncle when he sold his house, she came highly recommended by a man that is not so easy to please!! So when my husband and I were ready to buy We didn't hesitate to contact her. Amanda is so sweet and genuinely cares about her clients. She listens to any special  requests you may have and tells you the truth, which is more important to me than anything. We were first time home buyers with a million questions and she never once made us feel uncomfortable to reach out to her. Amanda was punctual with showings and communication. When it came time to look for homes she was on it every step of the way from showing the homes, digging for answers to questions we had about properties and was by our side the day we signed our docs. She was able to negotiate an amazing deal for us with our dream home. As busy as she may be, she made us feel like we were always her priority! If you are on the fence with searching for the perfect agent to represent you, look no further, you won't find a better fit! "
- Joshua & Paula Copas
" Amanda was awesome. She assisted in the sale of my cousin's probate property. Together we encountered many 'interesting' roadblocks. Amanda has experience in handling the sale of probate properties, so she was invaluable in professionally navigating through those issues. She went above and beyond to ensure the sale of property. I highly recommend her for handling the sale of any property. "
- Debbie Fredricks
" Amanda is outstanding. This is the second time she has been my realtor for the sale of a home, and I was very satisfied with the financial outcomes of both sales. She is a very smart negotiator and knows how to draft a shrewd counter-offer. She did a lot of research on area "comps" to ensure we set an asking price that would attract buyers who would make acceptable offers. Her attention to detail on documenting all the house upgrades and the extra work she did to estimate the value of the upgrades made the house very appealing to prospective buyers and improved the results of the appraisals. Amanda gave me a lot of personal attention and both homes sold within a month of listings. Thank you and your First Team. They are first in my book. "
- Julie Mangold
" Bob was the best! "
- Veronica Dilva
" We are so incredibly grateful for Amanda and her team! My mom needed to sell her home in order to move into assisted living, which was not an easy task - lots of memories and heartfelt moments attached to this home. Amanda was kind and patient and understood when we needed a few extra moments to gather ourselves. She was extremely knowledgeable about the area, gave us great advice to help maximize the marketability of the home, and stayed in constant contact with us throughout the entire process. She was always quick to respond to any questions we had (and we had a lot of them!) and immediately took action when something needed to get done. Amanda was amazing and we would definitely recommend her and her team to anyone buying or selling a home in the high desert! "
- The Theiss Family
" Bob Mac Culloch has been such an inspirational and motivating manager! I started with First Team around the same time Bob did and it's been a wonderful and lucrative 6 years under his guidance! He is always there for his agents offering support and encouragement, and by his example, we are always there for each other as well. It's such a collaborative atmosphere in the office and it's all to his credit. I often pass by him rushing to an appointment asking him to wish me luck and he always replies in the same way, "You don't need luck, you've got talent!" I can't imagine ever joining another office. Thank you, Bob! "
- Alexia Rusinek
" Daniel has been shown exceptional expertise, knowledge and insight into finding a property for me. He kept me smiling and looking even when I was ready to quit! My thanks and appreciation! "
- Rose
" Amanda by far is one of the best agents we have come across and had the pleasure of working with. She was our third charm in selling our Phelan home and even knowing that this is a seller's market, she did not come across at all that way! She was friendly from the start, highly communicative every step of the way, and also very transparent with potential buyers and us to ensure a quality bid and process for our home. We received multiple offers and accepted an offer of $25,000 over asking, where she explained each offer's strengths and closed in only 30 days. On the buying side, she teamed up with a local agent in the area we were relocating to, and still was highly communicative to ensure we were getting the right information as buyers. My family has been so happy to have come across Amanda and her team and hope to do business again for our next HD home! For any potential selling and even buying clients, I cannot express how fortunate you will be working with Amanda. "
- Ramos Family
" We were referred to Amanda by a friend and we were not disappointed. Amanda is always available when texted or called,and is an excellent problem solver. She also performs well under pressure, and makes sure that her team is doing their best to serve her client. She's not afraid to speak her mind when it comes to protecting your interests and is honest with you even if it's not what you were hoping to hear. An agent that knows her area and the current market is important to a real estate transaction whether you are buying or selling, and Amanda has the experience and the reputation you would want to have behind you when doing a real estate transaction. A Real individual not a phony. We were glad to have Amanda working with us! Niro Family "
- Nancy Niro
" Rob showed up to show us a house we wanted to see and we were impressed with him right away and decided we wanted him to sell our house. It's safe to say that Rob has become a friend. Chandal was awesome. "
- Laura & Randy B
" I deeply appreciate your professionalism I thank you so much Amanda for your negotiating expertise you always kept in touch no matter how frustrating at times I got you were always there to lend a helping hand, and words of soothing comfort, I'm not writing this because we finalize our sale, I'm writing this because I mean it,it's a sincere comment you are a five star realtor, I thank you so much for your work ethics, you are a credit to your job, you work hard Amanda and I know you love what you do, because I've witnessed the results, you are tireless, take care of yourself, stay healthy be safe "
- Yolanda Jimenez
" Teri is one of the best Real Estate agents. I and my husband had her help us and I can say she is the best one of the High Desert "
- Melody Rose Sallee
" Ernie is a fantastic realtor, his research in marketing a property is extensive and through. Before sharing strategies he does his research. He is a go getter and handles everything with such ease. If you are thinking of selling or buying ask for Ernie The D, he he had my house sold in record time "
- Tom Kajen Lee Living Trust: owner: Leslie Ditsler
" Teri Bragger is an amazing realtor and person who works tirelessly to get the job done. I highly recommend her to anyone looking for an honest, hardworking realtor who knows the High Desert well. "
- Crystal Johnson
" He is the beat agent in the high desert "
- Joanna
" Thank you Amanda for selling our home with such care. I still can't believe it was such a smooth and easy process. I really appreciated how you were available to talk through questions and any concerns we had. We will be reaching out to you when my parents are ready to sell.....I have every confidence that you will take just as good of care of them. "
- Heather Griggs
" Amanda is efficient, punctual, intelligent, and an overall pleasure to work with. She sold my property very quickly and had her numbers in order from the start. Looking forward to doing more deals with her, as she makes the process quick and painless. "
- Derek Ramos
" Amanda Vaage is a true professional. She was looking for a realtor to refer her client that was moving to Green Valley, AZ. and she did some research and chose me. Her client was selling her house in CA while buying her home here in AZ. There were some challenges along the way with the sale of the CA property and knowing that the purchase here was contingent on that sale, Amanda handled those challenges like the true pro that she is! She stayed rock solid through the whole process and our mutual client is now a happy Arizona home owner. You are making the right choice when you choose Amanda Vaage as your realtor in CA!! "
- Doreen Roush-Long Realty Company Sahuarita, AZ Tucson,
" Amanda and her team did an amazing job for the second time. 7 years ago she did an amazing job with us purchasing this house. This time around again she went above and beyond the call of duty. Her attention to the details has to be top of mind. We had 37 offers on our house in only a few days. So needless to say, with all those offers, the attention to details is what makes her stand out. And with all those offers, the negotiations were incredible to say the least. Her communication was outstanding. No matter the time of the day, she was always there for us. We would highly recommend Amanda and her team for your real estate needs. "
- Paul & Alicia Harms
" I can't speak highly enough about Michelle Souter as our real estate agent! We had an excellent experience working with Michelle and are so thankful she sold our home. Her knowledge, professionalism, honesty, integrity and hard work are very much appreciated and respected. From the first time we reached out to Michelle, she answered immediately and from there on out she was very responsive. Her communication skills are top notch and she continued to stay in close contact through the entire process. She was readily available, took excellent care of our home while coordinating showings and very responsive to questions. During negotiations we always felt like she had our best interest in mind. The process went so smoothly and she was an absolute pleasure to work with. We will continue to recommend her to all of our family and friends! "
- Nikki Spies
" Amanda did a great job helping us find our forever home. She had timely communication skills and was quick to respond to any questions we had. She provided great feedback in regard to negotiating a good deal to the seller. She was very attentive to detail. Working with Amanda made buying our forever home an easier process. I would highly recommend Amanda Vaage to my friends and family. "
- Rachele Schneider & Tom Antekier
Previous
Next